Japanese Language Classes
Japanese Class Map
This Pamphlet contains information about Japanese classes taught by volunteers in Fukuoka City and the surrounding metropolitan area.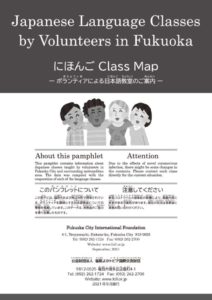 Japanese Class Map (September 2021) ※23 pages
※No.39 "Fujisaki Nihongo Kyoshitsu- Nihongo Marukajiri" is not taking new students currently.(January 2020~)
※Some classes may not be taking new students or are  closed temporary. Please contact each class directly for the current situation.
Japanese Language Classes at Fukuoka City International Center 4th Floor
Listed by day of the week
Tuesday 13:30 ~15:30


Nihongo Kyoshitsu Global Friendship
Level
Basic・Intermediate・Advanced
Fee
1 Lesson 100 yen
Cotact
090-5727-9925 (Ms. Nakamura)
globalfriendshipnihongo@gmail.com
Wednesday 13:00~15:00


Chiisana Kokusai Koryu no Kai
Level
Basic・Intermediate
Fee
6 Months 5,000 yen
Contact
092-662-7690(Ms. Noguchi)
chiisanainfo@gmail.com
Thursday 14:00~16:00


Sakura Nihongo Kyoshitsu
Level
Basic・Intermediate
Fee
1 Month 500 yen
Contact
090-9605-1747(Mr. Furuta)
furutaxxx.34@gmail.com
Friday 13:30~15:30


Chiisana Kokusai Koryu no Kai
Level
Intermediate ・Advanced
Fee
6 Months 5,000 yen
Contact
092-662-7690(Ms. Noguchi)
chiisanainfo@gmail.com