Japanese Chatting Event
It is a social gathering to support foreign students' Japanese language learning and exchange.
Foreign students and Japanese volunteers meet in small groups, and they will talk about their favorite topics.
The meeting will be held on the last weekday of the month, either online (Zoom) or in person (Fukuoka City International Center 4F Conference Room Access)!
※The event will be held online (Zoom) for the time being. Let's have fun chatting in Japanese!
Eligible person
・International students who wish to practice their Japanese.
・Japanese residents who are eager to support and speak to international students.
Schedule for October to December 2023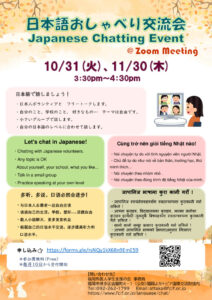 Date : Tuesday, October 31st and Thursday, November 30th, 2023 ※The event in December is not going to be held.
Time: 3:30pm – 4:30pm
Fee:     Free of charge
Place: Online (Zoom)
Application:【Foreign participants】
               Please send an email to (attaka@fcif.or.jp) or fill out the application form
              ※Please provide name, Zoom name, email address, and mobile phone number.
              ※Applications will be accepted from the 10th of each month.
          【Japanese participants】
                              Please refer to the application information of "Japanese Conversation Supporters"
Deadline:   Submit the application form by the method as above mentioned 3 days prior to each event day.
Fukuoka International Student Support Association-Attaka Fukuoka
〒812-0025
4-1, Tenyamachi, Hakata-ku, Fukuoka City 812-0025
TEL:092-262-1799
Time: 8:45-18:00