Welcome Event
Attaka Fukuoka organizes the annual international exchange event for international students who are new to Fukuoka and Fukuoka citizens.
The 17th "Welcome to Fukuoka" Event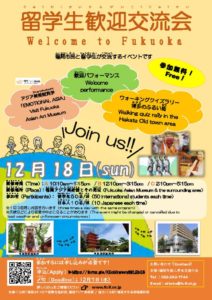 Event schedule
Sunday, December 18th, 2022
Timeslot A:10:10 a.m. – 1:15 p.m.
Timeslot B:12:10 p.m. – 3:15 p.m.
Timeslot C:02:10 p.m. – 5:15 p.m.
*The programme runs at 3 different times during the day.
Meeting point
Fukuoka Asian Art Museum 7F(Access)
Address:  7th Floor, Riverain Center Bldg., 3-1 Shimokawabata-machi, Hakata-ku, Fukuoka City
Contents
1.  Visit Fukuoka Asian Art Museum Special Exhibition – "Emotional Asia". (For around 30 minutes)
2.  Watch a welcome performance, coffee and snacks included.  (For around 30 minutes)
3.  Teams of Japanese and international students will be formed, and while walking around the old town area of ​​Hakata, the teams will look for answers to the quiz rally. (For around 1 hour and 30 minutes)
Capacity
Program A: 50 International students, and 10 Japanese citizens
Program B:50 International students, and 10 Japanese citizens
Program C:50 International students, and 10 Japanese citizens
*Limited space means that places are given on a first come first served basis.
Participant fee
Free of charge
Things to bring or wear
Wear clothes and footwear that are easy to walk in, and a mask.
How to apply
Please apply using the form below.
* You cannot participate on the day of the event without successful application.
Closing date for the application
Wednesday, December 7th
*Regardless of the closing date for the programs, applications will not be accepted after we reach capacity.
Notifications for participation
◆ This event may be changed or canceled depending on the status of COVID-19 or the weather.
◆ Please cooperate in the following points to prevent the novel coronavirus infection.
・ If you have symptoms such as fever or cough, or if you have someone close to you who is suspected of having such symptoms, then please refrain from participating.
・ When participating, please take measures to prevent infection such as checking temperature, disinfection of hands, and wearing a mask.
・ Please make sure the appropriate distance between you and others is followed while walking. Also, refrain from talking in a loud voice.
◆ Personal information will be strictly managed by the organizer and will not be used for anything other than event management.
◆ Japanese participants are requested to provide directions and time management support within the team.
Back Number (Previous events)
Click here for previous events
Fukuoka International Student Support Association-Attaka Fukuoka
〒812-0025
4-1, Tenyamachi, Hakata-ku, Fukuoka City 812-0025
TEL:092-262-1744
Time: 9:00-18:00